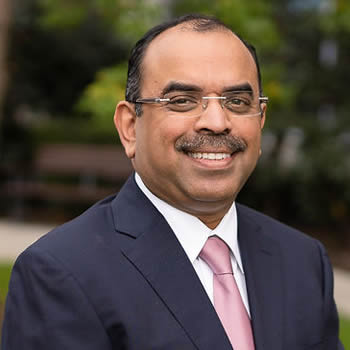 Clinical Director of Psychiatry
Dr Mathew Samuel has over 13 years' experience as a Consultant Psychiatrist in Western Australia, spanning from mild to severe and complex mental health conditions.
He specialises in psychiatry for the elderly, with a rich career history in this area and having published several notable academic articles on mental health issues affecting the elderly, including those related to Dementia and Alzheimer's Disease.
Dr Mathew commenced the first rTMS treatment at The Hollywood Clinic with the world-renowned Neurostar machine which was approved by FDA in 2015. This was the first machine for patients outside research protocol in WA.
Beyond his clinical work, Dr Mathew is committed to improving current and future psychiatric outcomes as Clinical Director of the West Australian Centre for Trauma Treatment and Research Centre in Nedlands, as well as Senior Clinical Lecturer at the University of Western Australia and Clinical Associate Professor at the University of Notre Dame Fremantle.
He is also currently a member of the Ethics Committee at The Hollywood Private Hospital and the foundation board member for PTSD WA Research Foundation. 
Dr Mathew previously held the position as Chair of the Psychiatry Advisory committee and Deputy Chair of Medical Advisory Committee at Hollywood Private Hospital between 2014 and 2020. 
He was also secretary and Chair of Faculty of Psychiatry Old Age of RANZCP WA branch.  
Dr Mathew is experienced in an academic setting as an accredited supervisor for trainees with RANZCP and an examiner for the OSCE and written papers for Committee for Examinations. 
Between 2016 and 2020 Dr Mathew ran Master Class WA in Psychiatry and introduced exclusive names in Psychiatry to the state such as Dr Gordon Parker, Dr David Nutt, Dr Navneet Kapur, Professor Guy Goodwin and Professor Nancy Andreasen. 
Alzheimer's disease and dementia
Trauma
Severe depression
Psychotic depression and psychosis
Schizophrenia
Ready to start your journey with Health in Mind?